"The interior walls painted in splashing color by Artist Valerie Berlin are a joy to behold"
– The Commercial Appeal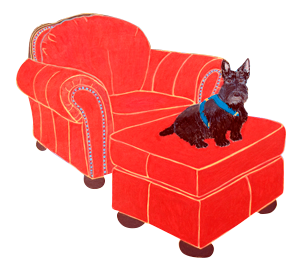 Dear Friends and Fellow Pet Lovers,
While photographing a client's home for a painting, the family pet, a languid hound named Leroi came into the room, curled into one of the chairs (in a way only a big gangly dog knows how to do) and without distraction, fell peacefully asleep. Leroi unintentionally became the focal point for the painting. The rest, as they say, is history. Over the years, I have completed literally hundreds of paintings of interiors featuring the client's beloved pet presiding over their "kingdom", their home.
Enjoy! -Valerie Berlin
AS SEEN IN SOUTHERN LIVING!